Aleksander Vezuli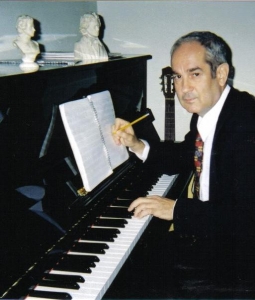 Aleksander Vezuli was born in Tirana, Albania. Immigrated in 1990 in France, then Belgium, and in 1996 arrived in New York. Started writing music at the age of 15, in different genres such as classical, film & TV, jingles, and songs.
Composer – From classical music to songs, film/tv, and commercials.
Producer – His own music and for others.
Arranger – From symphony orchestra to band arrangement.
Instruments – Piano, Guitar, Bass, Accordion, and Double Bass.
Computer – Finale Notation, Cubase, Wavelab, Recording, Mixdown, Sound Engineering, and Video Editing.
Writer – Wrote his own autobiography, published in 2015.
Languages – English, French, Italian, Albanian, and some knowledge in Russian.
Artistic Director and Manager of the

Grand Montgomery Chamber Music Series

. 2018 – Present
Piano & Guitar teacher and performer in France, Belgium, and New York. 1990 – Present.
Piano & Guitar teacher at Imperial Guitar & Soundwork (Newburgh, NY). 2011 – 2015.
Piano & Guitar teacher at Talento Academy of Music (Bloomingrove, NY). 2012 – 2014.
Piano teacher at New York School of Music (Walden, NY). 2005 – 2012.
Vice President of the Broadcasting Music Department in National Albania Radio Television (Tirana, Albania). 1982 – 1990.
Masters Degree in Music Journalism at the Tirana University (Tirana, Albania).
Bachelor's Degree in Music Theory and Composition at the Academy of Arts (Tirana, Albania).
ASCAP (American Society of Composers, Authors and Publishers)
SABAM (Belgian Society of Authors, Composers and Publishers)
2019 – Composer and Music Producer, Aleksander Vezuli (Times Herald Record)
2016 – Aleksandër Vezuli: Si u shërova nga leuçemia përmes ushqimit
2003 – The Chamber Symphony Players of the Berkshires (Hudson, NY) played his 2 Symphonic Dances for Chamber Orchestra:
"Upon his first hearing the style might be said to be somewhere between Bartok and Khachaturian, but Mr. Vezuli's inspiration is quite distinctive and does not need to fear comparison." – Troy, New York, August 23, 2003
In 2007, he released (through CD Baby) his 1st US album: "Warmin' Up The Globe". It's available on iTunes, Amazon, Rhapsody, Spotify and others worldwide.