Aleksander Vezuli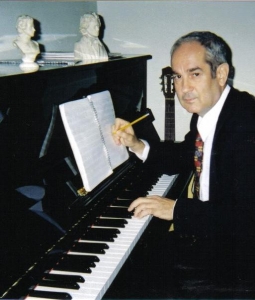 Aleksander Vezuli was born in Tirana, Albania. Immigrated in 1990 in France, then Belgium, and in 1996 arrived in New York. Started writing music at the age of 15, in different genres such as classical, film & TV, jingles, and songs.
Composer – From classical music to songs, film/tv, and commercials.
Producer – His own music and for others.
Arranger – From symphony orchestra to band arrangement.
Instruments – Piano, Guitar, Bass, Accordion, and Double Bass.
Computer – Finale Notation, Cubase, Wavelab, Recording, Mixdown, Sound Engineering, and Video Editing.
Writer – Wrote his own autobiography, published in 2015. Also some of his own song lyrics.
Languages – English, French, Italian, Albanian, and some knowledge in Russian.
Artistic Director and Manager of the

Grand Montgomery Chamber Music Series

. 2018 – Present
Piano & Guitar teacher and performer in France, Belgium, and New York. 1990 – Present.
Piano & Guitar teacher at Imperial Guitar & Soundwork (Newburgh, NY). 2011 – 2015.
Piano & Guitar teacher at Talento Academy of Music (Bloomingrove, NY). 2012 – 2014.
Piano teacher at New York School of Music (Walden, NY). 2005 – 2012.
Vice President of the Broadcasting Music Department in National Albania Radio Television (Tirana, Albania). 1982 – 1990.
ASCAP (American Society of Composers, Authors and Publishers)
SABAM (Belgian Society of Authors, Composers and Publishers)
ALBAUTOR (Albanian Society of Authors)
2022 – Movie Soundtrack – Dhoma
2019 – Movie Soundtrack "Sfida"
2019 – Film Animation Soundtrack "Hudson Valley Miracle"
2018 – Vajza Jonë Sot Nuse E Re
2017 – Tetis Balla – Kec Postieri
2017 – Stela Voja – I Dua Kafshët
2017 – Aleksandër Vezuli and choir – "Jehona Shqiptare" Anthem of the Albanian Association "Jehona Shqiptare"
2017 – Aleksandër Vezuli – Oh, No!
2015 – Published his autobiographical book "Rrëfimet e një Kompozitori Shqiptar" (Confessions of An Albanian Composer) (588 pages)
2013 – Aleksandër Vezuli – A-ba
2007 – Aleksandër Vezuli – "Warmin' Up The Globe" (Album). Released (through CD Baby). It's available on iTunes, Amazon, Napster, Spotify and others worldwide.
2003 – Albanian Dances No. 1 & 2 for Chamber Orchestra played by The Chamber Symphony Players of the Berkshires, Hudson, NY
2002 – Belgium: National TV & Cable Broadcast – Opening Theme for Children "L'Elephant Chez Le Dentiste"
2000 – Publishing Agreement with DSM Producers, New York, NY for the Woodwind Quartet in 3 Movements
1999 – Publishing Agreement with SRH Publishing Group, CA for the song Money Go 'Way
1990 – Françesk Radi and Ermira Babali – Le Ta Dinë (Recorded in 1986)
1989 – Opening Theme – National TV News
1989 – Theme Song – National TV Show – Manjola Nallbani, Eglantina Leka, Lindita Zyberi and Alqi Boshnjaku – Njohja S'ka Fund
1989 – "Kush Do të Fitojë" TV show theme song sung by Morena Reka, Anila Tusha, Rubin Mati. Recited Kastriot Çaushi
1988 – Anita Bitri – Mos u Nxito
1987 – Opening Theme – National TV Sportscast Show
1985 – Kozma Dushi – Mosha e Rinisë
1984 – A. Kelli – Miza dhe Bleta
1982 – Klara Filipi – Lule e Jetës
2019 – Composer and Music Producer, Aleksander Vezuli (Times Herald Record)
2016 – Aleksandër Vezuli: Si u shërova nga leuçemia përmes ushqimit (Shije)
2003 – The Chamber Symphony Players of the Berkshires (Hudson, NY) played his 2 Symphonic Dances for Chamber Orchestra:
"Upon his first hearing the style might be said to be somewhere between Bartok and Khachaturian, but Mr. Vezuli's inspiration is quite distinctive and does not need to fear comparison." – Troy, New York, August 23, 2003