Franz Vezuli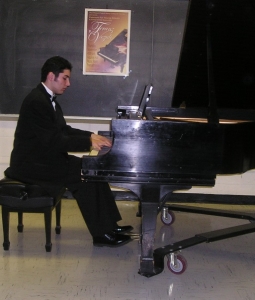 Born in Tirana, Albania, 1987. He started piano at age 7 in Brussels (Belgium), where he won the first award at age 9 in a piano competition at the Music Academy of Ixelles (Brussles) playing "Turkish March" by Mozart.
In 1997, his parents moved to New York where he attended Manhattan School of Music for 6 years. His teachers have been his father Aleksander Vezuli, Philippe Terseleer (Brussels, Belgium), and Dr. Peter Vinograde (MSM, NY).
Among several concerts throughout the area, his first major appearance with a symphonic orchestra was at age 16 with Greater Newburgh Symphony Orchestra, NY, playing "Triple Concerto" by Beethoven conducted by Dr. Woomyung Choe.
At age 17, he played his first solo recital at the Grand Montgomery Chamber Music Series, NY, which included Rhapsody No. 15 by Franz Liszt, and the most difficult piece that composer Maurice Ravel ever wrote for solo piano, Scarbo from "Gaspard De La Nuit,". He has contributed to the largest classical music site on the internet at classicalarchives.com. At age 18, he started teaching piano atNew York School of Music, where he continues to teaching to this day.
He released his first CD entitled "My First Recital At Age 17".